Social Media Budget Price Options
We boost your business
At Roi marketing llc, our mission is to empower small businesses by providing results-oriented ROI (Return on Investment) marketing consulting services. We are dedicated to helping our clients maximize their marketing investments and achieve sustainable growth in today's competitive landscape. Our Commitments: We strive to be a trusted partner for small businesses, offering expert guidance and strategic insights that align with their unique goals and target audience. We work closely with our clients to develop comprehensive marketing strategies that deliver measurable results and drive tangible business outcomes. We understand the importance of every marketing dollar spent by small businesses. Our priority is to optimize their marketing efforts to ensure a high return on investment. Through data-driven analysis, we identify the most effective channels, tactics, and campaigns to drive customer acquisition, retention, and revenue growth. We recognize that each small business has its own set of challenges, opportunities, and budget limitations. We provide personalized solutions that are specifically tailored to their needs, resources, and industry dynamics.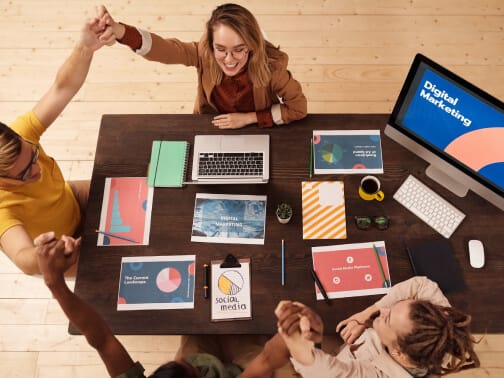 "Unite, Collaborate, Excel: Together as a Team!"
Collaborative Partnership: We believe in fostering collaborative partnerships with our clients. By actively involving them in the decision-making process and encouraging open communication, we build a strong foundation of trust and transparency. Together, we work towards shared goals, celebrating successes and overcoming challenges as a unified team.